Acrylic nails are brittle, easily breakable and more vulnerable to staining than natural nail polish. If you're looking for a non-toxic option that will last longer without chipping or wearing off, here is our list of the top 8 best alternatives.
Acrylic nails are a popular choice for nail polish. However, the gel nail extensions have been gaining popularity recently. Here is a list of 8 best alternatives to acrylic nails.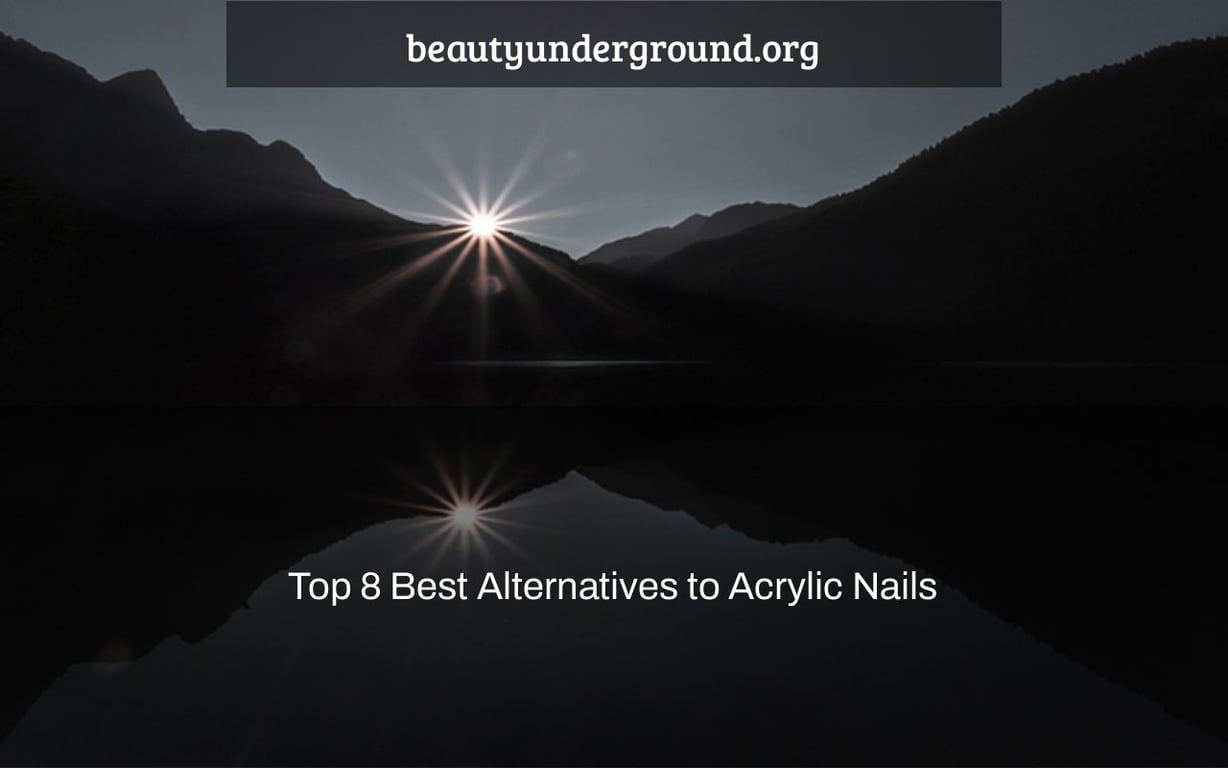 Do you want a healthy, fashionable, and safe alternative to artificial nails? Let's look at some of the most popular and excellent solutions for your nails. These options are highly suggested and will offer you a fresh, beautiful appearance.
Acrylic nails are popular because they are long-lasting and resilient. However, many girls have issues with artificial nails, including chemical damage and skin allergies, and it may ruin your natural nail. Many individuals cannot afford artificial nails and choose to have natural nails. 
As a result, acrylic nail substitutes develop. 
Acrylic Nail Alternatives
Is this correct? Acrylic nails are poisonous and even hazardous.
Germs and harmful substances may easily penetrate our skin. Our nails are a component of our skin and may be used to absorb chemicals.
Acrylic nails are poisonous, and some formulations also include methacrylate (MMA), which is harmful to our health and skin, therefore many are seeking for alternatives to acrylic acid that are safer and more natural.
Another dangerous chemical included in acrylic nail glue is toluene, which may cause skin irritation and headaches among other things. These are some of the most compelling reasons to consider alternatives to artificial nails. There are other alternatives that are far safer and healthier. 
Stickers for nails
Stickers for nails give amazing nails in a simple way
Stickers for nails refer to as polish stripes and nail wraps. These Stickers for nails are designed explicitly to stick-on nails and look very impressive. You don't need too much money and time to apply Stickers for nails. 
Stickers for nails are easy to use and don't require any expertise for their application. They are not as durable and long-lasting as other nail products, one of Stickers for nails' main drawbacks. Overall, Stickers for nails are an excellent choice for you. Some of the best Stickers for nails are:
Nails That Stick
Nails That Stick are easy to stick and easy to remove
You can choose Nails That Stick if you are looking for low-cost and less harmful nails for your wedding or whatever function you're going to attend; Nails That Stick will be a wise choice for you. This type of nail is manufactured according to your nail frame and can be applied directly to the nail simply and quickly.
Its advantages include its low cost, simplicity of use, and removal. On the other hand, it has the disadvantage of quickly breaking if not worn properly, and it is not as durable as artificial nails. Many branded firms provide press-on nails with a salon-quality manicure for a relatively low price. Let's take advantage of the opportunity to buy them at DJ. 
Nails in Silk 
Nails in Silk are very soft and easily peeled off.
You can find Nails in Silk as an alternative to acrylic nails or gel nails. The working method of Nails in Silk is applying a layer of silk on the nail bed, and after that, you can paste a resin layer to make a coating. You can make beautiful designs on Nails in Silk, and they look much prettier.
If you are involved in daily routine activities like gym exercise or being a player, Nails in Silk are not a good option. They are not durable and don't last for a long time. So opt for any other option as an alternative to acrylic nails rather than using Nails in Silk.
Powder for dipping 
Powder for dipping is an alternative to acrylic nails when you don't want to commit to it yet.
Powder for dipping has a different process of application. The system of Powder for dipping works differently by brushing or dipping nails into pigmented powder or colored powder.  A clear sealant can apply on top for sealing the colored powder. You can use a brush to remove excess powder from the nails. 
Powder for dipping is safer than acrylic nails. This nail type has the same durability as acrylic nails however it does not require UV LED heating, is free of harsh chemicals, and has no odor. You can use dip nails simply or with the nail tips to create nail extensions. But it will be wrong to use these nails with nail forms. 
The Powder for dipping method is more costly than other methods, but it is more durable and can last more than two weeks. It means Powder for dipping can stay for a long time, and it can be a good choice for anyone. The downside of these nails is that they will feel heavier on your nails than acrylic nails. 
Extensions Gel
Extensions Gel add durability and naturalness to nails.
Extensions Gel are also one of the durable and popular methods used as an alternative to acrylic nails. Some of the specific features of Extensions Gel are:
Durability & Long wearability
Safe & Don't have any harmful chemical 
Lightweight 
Natural skin and nails are not harmed.
There are no fumes, odors, or heavy filing.
Easy to apply & Remove
The plentiful advantages of Extensions Gel make them a little much more costly than other extensions and options. But the price varies according to your design's complexity and expertise.
If you want an intricate design and more durable Extensions Gel, you have to pay more money. Depending on your choice and preferences, it may be in the range of $85-$350.
They may persist for up to four weeks and are easily removed by soaking them in acetone. Your gel extension will disintegrate without harming your nails.
Gel nails, which are formed of gel and pre-shaped nail tips, are a healthy and adaptable alternative to artificial nails. They are less harmful, safer, and more durable than acrylic and other artificial nails.
The process of application is the same as acrylic nails, but the ingredients are different. Extensions Gel have a thick UV gel which requires a LED lamp or a UV for curation, while acrylic nails use a polymer powder and need a liquid monomer for their curation. 
Gel nails are preferable to artificial nails since they contain no toxic chemicals and are thus safer to use. Gel nail extensions are also lightweight and don't put any strain on your natural nails, making them a safer and better option than artificial nails.                                                            
Nail Polishes (Gel)
Gel nails have a more artificial appearance than acrylic nails.
Nail Polishes (Gel) are gentle, cost-effective, and easy to use for your nails. They can be a good substitute for acrylic nails, but they are not as durable as acrylic nails. It is easy to use gel polishes by using nail tips to add extensions, and they can last at least three weeks. 
Gel nails polish for a short time so that you can choose other alternatives. They are safer and less chipped. You can select Nail Polishes (Gel) for fewer time durations.
Gel polish, on the other hand, must be subjected to UV light, which is bad for your nails. It will also give you a headache to remove it since it is extremely tough.
Nail Fiberglass
Nail Fiberglass will be stronger and more durable than Nails in Silk
Fiberglass has similar features and characteristics to Nails in Silk. One difference is that a sheet of fiberglass can be used on nails to provide a more glossy and transparent look. They have a short time duration, so you don't choose them for long-term applications. 
They are a good choice for thin and short nails and give a healthy-looking to your nails. You can easily apply Nail Fiberglass by applying a thin mesh strip, and it will make a hard layer on your nails. How many layers you apply will create a more rigid layer. It means you require much time for a hard layer of Nail Fiberglass and have to repeat this practice after two or three weeks.
Although Nail Fiberglass offer you a strong base, their overall result is not very satisfying. You may have to face difficulty in removing them.
Nails with Shellac
CND is the market leader in Shellac gel polish.
Nails with Shellac give your nail a gorgeous look, best finishing, and chip-free material. You can apply these nails on any other nails you have ever used.
Their quality is superb and made by a brand CND. You can choose Nails with Shellac for durability and a more beautiful nail finishing and look. They can become your most favorite one, and you never look for an alternative by applying these beautiful nails.
These nails offer distinct traits and characteristics, such as protection, a gleaming appearance, and a magnificent dazzling shine. It comes in over 100 hues and needs a special procedure to activate molecules when UV (ultraviolet) rays hit them. 
Nails with Shellac prove very durable and can last more than 14 days if you apply them properly and professionally. They don't damage or remove by indulging in household activities, and therefore they are the best and safe alternative to acrylic nails and especially suitable for a bride.  
Following certain professional recommendations, you may use fake and artificial nails more safely.
Don't over-cut or press the cuticle. Because the cuticle protects you from infections, trimming your cuticles moderately may help. 
Wear gloves before doing any domestic activities to prevent your nails from deteriorating.
It's preferable to have soakable nails rather than having to file them off.
Before exposing your hands to UV radiation, use a high quality sunscreen (UVA/UVB).
After removing your nails, apply a cream moisturizer on them to keep them healthy and safe.
Do not use fake nails on a regular basis; take a break before attempting a new one. This break will revitalize your nails, allowing them to blossom once again.
Conclusion
Fake nails provide you a new fashionable style, but they have certain disadvantages when used. It is preferable to take care of your natural nails and make them attractive and healthy rather than looking for fake nails. 
With appropriate care, natural nails may get stronger. Although acrylic nails and other replacements are simple to apply, they might cause health concerns. 
Acrylic nails are a popular choice for many people, but they can be quite damaging. Here is a list of some alternatives to acrylic nails that you can try at home. Reference: alternative to acrylic nails at home.
Related Tags
gel-x nails
dip powder nails
least damaging artificial nails
healthy alternative to gel nails
gel nail extensions near me