Nail salons are a favorite place for many people to go get their nails done. There is something about the luxury of getting your hands and feet pampered that makes you feel special, even if it does cost more than $5. But how long does it typically take to have nails done? What salon should I go to so my experience will be great?
Acrylic nails take about 45 minutes to an hour to get done. The process of getting acrylic nails done is not that long, but the time it takes for the polish to dry can be a little bit longer than you would like.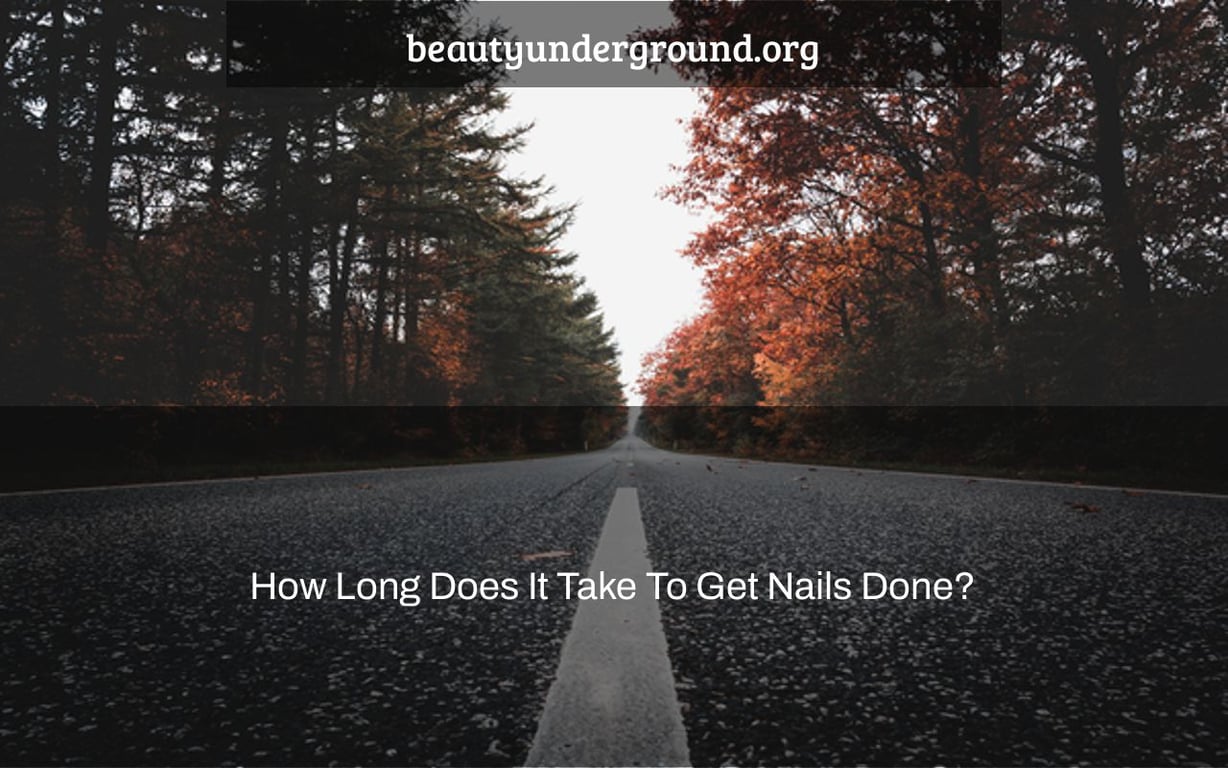 We suggest having your nails done over the holidays or on weekends when you have more free time. If you insist on getting your nails done throughout the week, you may want to know "How long does it take to have nails done?"
In general, this is dependent on a number of things, including the manicurist, the kind of nail treatment, and so on. Continue reading to learn more.
When Getting Nails Done, How Long Does It Take? Just ask the employees!
The acrylic manicure might take more than an hour in most establishments. However, with the aid of experienced manicurists, you may expect to get your acrylic nails done in 45 minutes at certain high-end salons. Your treatment will likely take more than an hour if you have damaged nails or poor lifting.
A one-hour finishing time is considered typical. However, unless your nail technician is exceptional, working under an hour risks a shoddy job.
Nail polish is a skill-based work of a manicurist and takes time to achieve perfection. However, in our experience, no process has taken longer than three hours.
Acrylic Nails are one of the most popular choices at salons.
In general, this form of nail is highly attractive and is popular among women due to its adaptability. It gives them the opportunity to develop their own unusual styles and patterns, making them ideal for women who love to express themselves.
It is solely used for ornamentation by many ladies. It may enable individuals to stand out and get recognized at high-end events. Others use artificial nails to prevent unhealthy habits like chewing their nails.
Acrylic may also be done at home, and the time it takes will be determined by your skill level and pace. This may be a major hardship for novices. To get the greatest results, you need seek the assistance of a skilled manicurist, which may be rather costly.
Gel Nails
Gel nails are also a common treatment offered by most nail salons. They're also popular because of their adaptability and durability. In essence, they are applied over the natural length of your nails.
These nails are the perfect pick for you if you work in certain professions or need to use your hands a lot.
Gel nails are also another service that most nail salons usually provide.
They normally persist between two and four weeks. Gel nail application does not take as long as the two models above. You should be able to complete them in under half an hour.
Nail Polygel
Nail Polygel are a great combination of acrylic nails and gel nails. They are as flexible as gel nails while being as durable as acrylic nails and as flexible as Gel Nails.
If you use these nails, it can take you anywhere between 30 and 90 minutes to complete.
Nail Polygel are a great combination of acrylic nails and gel nails.
How Do You Do Your Own Nails?
You may always do your nails yourself at home if you don't have the time or money to go to the salon.
Manicures at home may be time-consuming and less attractive than those done in a salon. However, if you have patience, you will soon succeed.
Following these fundamental ideas and advice, you may swiftly do your nails at home.
1. Get a Good Toolkit
There are thousands of kits on the market to help you do your nails at home. Therefore, if you are an amateur, you may be overwhelmed. So, before you start, consult a trusted manicurist to get the best kit.
If you are inexperienced in choosing a nail kit, just consult a professional manicurist.
2. Keep the nails short and clean.
Before applying the acrylic paint, start by trimming your nails. This helps to avoid bed injuries. Then, on your natural nails, push your cuticles back and remove the previous polish.
3. Using a grit-filing block, rub
This makes it easier for the manicure to adhere to your natural nails (whether these are gels, acrylics, or shellacs).
This, however, may harm your natural nail bed. As a result, if you want to maintain your nails healthy, you may omit this step.
4. Use a primer or nail glue.
Apply acrylic nail adhesive and polygel or gel nail primer. Before going on to the following stage, make sure they are thoroughly dry.
5. Use an extension, paint, or gel.
Apply the extension as soon as the glue cures if you're using acrylic. 
If you like gel nails, apply a thin coat of gel polish first. After that, use UV lights to dry it.
Only use acrylic extensions to get the required form and length.
Apply the extension and the gel together only if using Polygel.
6. Wait for your nails to dry
Finally, allow time for the nails to dry.
Acrylic nails are usually air-dried. So, the use of a UV lamp is not necessary. On the contrary, you need to use UV rays to dry Polygel or gel nails.
If you choose Nail Polygel, it is essential to use UV rays to dry them.
Questions Frequently Asked
1. Do acrylics cause pain?
Your nails may cause you agony and anguish. Don't be concerned! It is common among persons who are getting acrylic treatment for the first time or who do not use acrylic often.
Within 24 hours, the soreness will go on its own.
2. Is it okay to have acrylic nails for a long time?
If you use artificial nails for an extended period of time, you should repaint them every 2 to 3 weeks to fill in the gaps.
Keep in mind, though, that this might harm your natural nails. Fake nails, in short, may cause your nails to become thin, dry, and brittle.
3. How much does having your nails done cost?
It will be determined by the salon you choose. You may use the following typical costs as a guide:
Manicure Regular: $10-$40
$25-$100 for a full acrylic manicure.
Manicure with Dip Powder: $35-$55
Manicure with gel: $20-$65
4. What Is the Life Expectancy of Acrylics?
An acrylic set may last up to two months if properly applied. Returning to your salon for a "fill in" every two to three weeks is recommended.
If your acrylic nails break or fall off, you'll need to replace them.
5. How long do gel nails stay in real life?
Gel nails might be the ideal choice if you have a lot of activities coming up, such as interviews, proms, internships, and family trips.
Gel nails may last up to two weeks on average. They may last up to four weeks or even longer if you're really attentive.
Conclusions
So, how long does it take you to paint your nails? Of course, this is dependent on a variety of things. However, you should anticipate them to take anything from half an hour to two hours to complete.
Hopefully, this essay has been useful in planning a manicure for a hectic day.
When booking an appointment, inquire about final recommendations. They will provide you the estimated arrival time as well as other useful information.
Shellac is a type of nail polish that can last up to two weeks. It usually takes about an hour to get shellac nails done, but it will depend on the salon and the person doing the nails. Reference: how long does it take to get shellac nails done.
Related Tags
how long does it take to get gel nails done at a salon
how long does it take to get a gel manicure
how long does it take to get a pedicure
how long should you wait to get your nails done
why does it take me so long to do acrylic nails