Doctors are part of a profession that doesn't allow for too many personal choices, but nail polish might be one exception to the rule. Doctors have been in recent years starting to use nail polish as an alternative treatment method and even cosmetic. Will doctors ever stop being so serious?
The "can medical students wear nail polish" is a question that has been asked before. The answer to the question is no, they cannot wear nail polish because it could cause infection.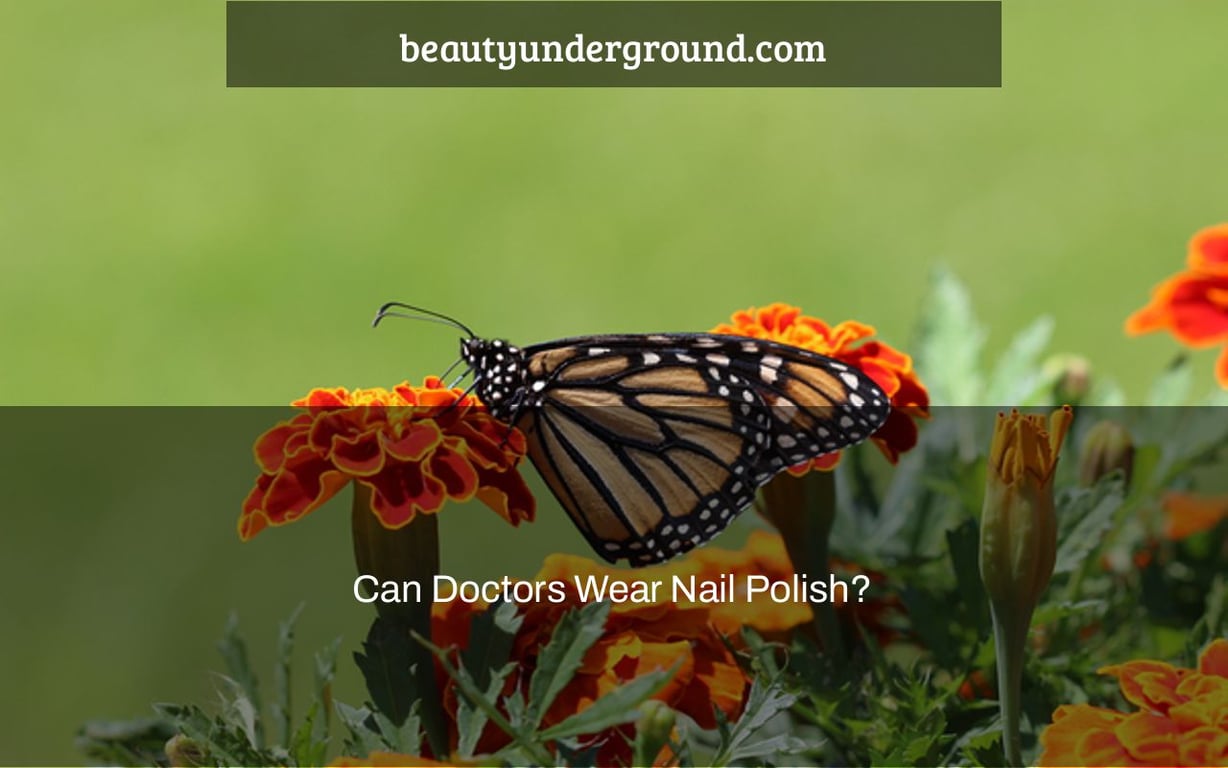 Are physicians allowed to wear nail polish? Because infection control is so important in the medical field, let's check whether physicians and surgeons are allowed to wear varnish!
Some aesthetic restrictions for medical personnel, physicians, and surgeons, in particular, might be off-putting. Nonetheless, these regulations and recommendations exist for the protection of patients and are founded on significant concerns about infection transmission in medical settings. 
Given that the hands are one of the most significant instruments for physicians and surgeons, it's no wonder that fingernail treatments, such as artificial/polish nails, nail arts, and other comparable adornments, are heavily regulated. 
Are physicians allowed to wear nail polish? How about acrylics and long nails? We'll reveal the fundamental rules any doctor should know!
Are Doctors Allowed to Wear Nail Polish?
Although working regulations and procedures differ across hospitals and medical institutes, physicians are typically not allowed to wear nail paint.
The major reason for this is the potential of cross-transmission from nail polish, particularly when it is damaged. Polished nails have been linked to pathogen contact and healthcare-associated illnesses in patients in several studies.
Furthermore, most reputable healthcare organizations and institutions forbid healthcare professionals from wearing nail polish.
The Association of Operating Room Nurses and the Association for Professionals in Infection Control and Epidemiology both prohibit the use of gel polish during surgical procedures. 
Their regulations are supported by research that shows a correlation between nail polish and an increase in bacterial development. The nail polish has a larger possibility of harboring fungus and chemicals, which may be harmful to the health of their patients. 
Other major organizations, such as the US Centers for Disease Control, the Infectious Diseases Society of America, and the Society for Healthcare Epidemiology of America, agree that artificial and polished nails may be harmful. 
Institutions normally have more lenient restrictions when it comes to gel-based polish. Outside of the operating room, doctors are permitted to wear gel polish, but they must remove all of it before entering complex procedures or high-risk regions, according to their working standards. 
For the reasons stated above, most medical institutions continue to prohibit the use of nail polish to assure surgical efficacy and protect patients' interests. 
Some clinics still allow their medical staff to wear manicured nails, but they have strict guidelines about the length and kind of lacquer (oftentimes, only clear polish is allowed). 
Because regulations differ across clinics and organizations, it's advisable to inquire about the dress code policy at the place you work before committing to any manicure. 
The Transmission of Infection Through Nail Polish
Almost all forms of manicures and nail polish are prohibited by healthcare institutions for sanitary and safety grounds. 
According to studies, when nail paint chips or cracks or is worn for more than four days, it may house bacteria that are resistant to hand washing and surgical hand washes. 
In other words, chipped nail polish increases more risks of infection than newly painted, unchipped nails. 
Chipped polish is more likely to spread infection than unvarnished, natural nails
Furthermore, it has been shown that the presence of UV-cured nail polish increases the risk of poor hand hygiene. This supports the restriction of nail polish in medical and surgical settings, particularly those cured under UV radiation. 
Gel nails, according to another research, had greater numbers and more microbial species than real nails.
Different countries and medical institutions may have different rules.
Hospitals in the United States set the rules for dress standards and the physical appearance of medical personnel.
As a result, it's recommended double-checking your workplace's policy to see whether you may wear manicured nails as a doctor. 
To limit the spread of pathogens on fingers, the Mayo Clinic Health System, for example, authorizes the wearing of nail paint as long as it is in excellent shape and not chipped. 
However, the guideline is vague on when the nail polish should be replaced or removed. 
Many nations have tougher hand hygiene regulations for medical personnel. All hospital-based physicians in the United Kingdom and Ireland, in particular, are prohibited from wearing painted nails, even clear lacquer. 
The Bare Below the Elbows program is completely implemented in these nations, requiring physicians' nails to be natural, short, and unpolished, as well as bans on the wearing of watches, ring bands, and other jewelry below the elbows. 
The World Health Organization (WHO) and the American Ophthalmological Society (AORN) do not suggest that healthcare workers use nail polish or artificial nails. Instead, keep your nails short to prevent germs from spreading.
So, Are Doctors Allowed to Wear Nail Polish? Can surgeons wear nail polish? Now you know most hospitals are inclined to the "No" for both doctors and surgeons!
Doctors are allowed to have long nails.
Similarly, many hospitals require their medical staff to keep their nails short, and for good reason:
Higher Microorganism Counts
In comparison to shorter nails, longer nails have been shown to be a sanctuary for microbes.
The reason for this is because there are more surfaces for them to attach to. Hepatitis B, hepatitis C, and human papillomavirus are all found in fingernails.
Longer nails may carry more microorganisms.
Infringe on the procedures
According to Standard Precautions, gloves provide a protective barrier for physicians and patients. As a result, keeping your nails short is essential (not growing longer than your fingertip).
To be more exact, what is the appropriate fingernail length?
Doctors should keep their fingernail tips no longer than 0.08 inches (2mm). It is scientifically proven that fingernails at this length were less likely to harbor bacteria than nails exceeding 0.08 inches.
Doctors Should Keep Their Nails Short
Longer nails may penetrate the glove tips, placing your patients at risk of infection and contamination. 
It's difficult to accomplish some duties with long nails, particularly when the physicians are dealing with an emergency.
This may lead to erroneous technique while using various medical equipment, which is why most hospitals have strict requirements for medical employees' nail length.  
Long nails are also inappropriate for inspecting patients, particularly in areas where disease transmission is sensitive or high, such as the rectal or pelvic regions. 
Breakage and Splitting Prone
If physicians and surgeons wear their nails excessively long, they are more likely to break, crack, and split. It would have no negative impact on your daily life. 
When your long nails are damaged or split when conducting surgical procedures, it might interrupt the medical process, making your nails a more appealing home for bacteria.
The fractured bit of nail might end up in the patient's wound or organs in the worst-case scenario. 
While on duty, attract unneeded attention
Long nails may make medical professionals look unprofessional to their coworkers and patients.
Maintaining an acceptable look to your patients is critical in such a professional environment, as it enables a positive connection and a smooth medical procedure.
Patients may reject treatment and care from physicians or nurses who have long nails in order to protect their interests, since they consider long nails to be unprofessional and unhygienic.  
Can Doctors Use Synthetic Nails?
Artificial nails should not be worn by anybody who works with patients, customers, or residents. This implies they're not usually allowed for physicians who provide direct patient care.
Fake nails are considered a larger menace than nail polish in general. 
According to the CDC, healthcare personnel who care for patients at high risk of infection, patients in critical care units, or transplant units should not wear artificial nails.
Artificial nails and any kind of extender are also prohibited for any healthcare workers, according to WHO guidelines.
There are varying laws concerning artificial nails depending on whatever CDC or WHO guidelines your hospital opted to adopt.
Direct care providers must not use fake nails or extenders if they follow WHO recommendations. 
Those giving care in high-risk sectors should not wear fake nails if the CDC is picked. However, in order to safeguard the safety of their patients, medical institutions following CDC rules have opted to prevent all care professionals from using nail gels, gel paint, and fake nails. 
Is it permissible for OR personnel to have artificial nails?
Artificial nails should not be used by medical staff in the perioperative setting for the following reasons:
Hand hygiene is ineffective.
Hand hygiene is critical in the operating room (OR) for infection control.
As a result, it's essential to thoroughly wipe the surface of the hands from the wrists to the elbows, removing any scales or other particles or residues that have clung to them. 
Cleaning and cleaning fake nails is more time consuming, making hand washing less effective than with bare natural nails.
The less successful this cleaning procedure gets, the greater the risk of infection in the operating room. 
Water Exposure on a Regular Basis Can Affect Lifting
Working in an OR setting necessitates being acquainted with constant water exposure.
A surgical nurse, for example, has to scrub at least four times in her 8-hour shift, and this process involves tough not-so-soft brushes and harsh chemicals. 
Frequent Scrubbing And Washing Can Lead To Nail Lifting
Acrylic nails, on the other hand, are not suggested in a vocation that requires frequent contact with water.
Premature lifting occurs as a result of constant contact to water and moisture, resulting in a space between the fake items and your nail bed. 
Water may collect within these cracks, providing a breeding environment for germs and yeast. Paronychia infection, a yeast infection beneath the nail fold, is one of the most prevalent diseases for damp hands with artificial nails. 
Doctors and nurses in the operating room are undoubtedly more susceptible to these infections, which might contaminate the surgical environment. 
Gloves And Long, Artificial Nails Don't Mix
As previously stated, medical gloves may be punctured by nails of sufficient length.
Gloves should be in good shape so that they do not endanger the patients' health during invasive operations. Long, false nails will prevent this, making them a no-no in the operating room. 
Medical students are allowed to wear nail polish.
Nail polish is usually allowed among medical students. To be more suited for educational contexts, we suggest using neutral, inconspicuous tones. 
When it comes to clinical years, when direct interaction with patients is a daily occurrence, the clothing code usually grows harsher.
Until now, medical students have been expected to wear natural nails without nail extensions, false nails, or even nail lacquer (even clear varnish!). 
Conclusion
Are Doctors Allowed to Wear Nail Polish? We hope now you have the answer by the end of this article!
While there is currently a lack of compelling scientific evidence linking nail polish with cross-infection, we should be aware of its potential as a microbe habitat. 
Whether you are permitted to wear nail paint depends on your hospital's regulations; nevertheless, most hospitals have decided to prohibit the use of nail varnish or any other sort of nail treatment. 
Choosing this job demonstrates that you understand the necessity of good hand hygiene, which generally entails neat, tidy nails! 
We should always do what is best for our patients, and it is sometimes more sensible to question if we should wear nail varnish rather than whether we are permitted! 
The "can doctors have long nails" is a question that we often get from our readers. Doctors do not wear nail polish, because they would need to remove it before surgery.
Related Tags
can female surgeons wear nail polish
can you wear nail polish in the or
can doctors wear makeup
can surgeons wear earrings
can surgeons have acrylic nails